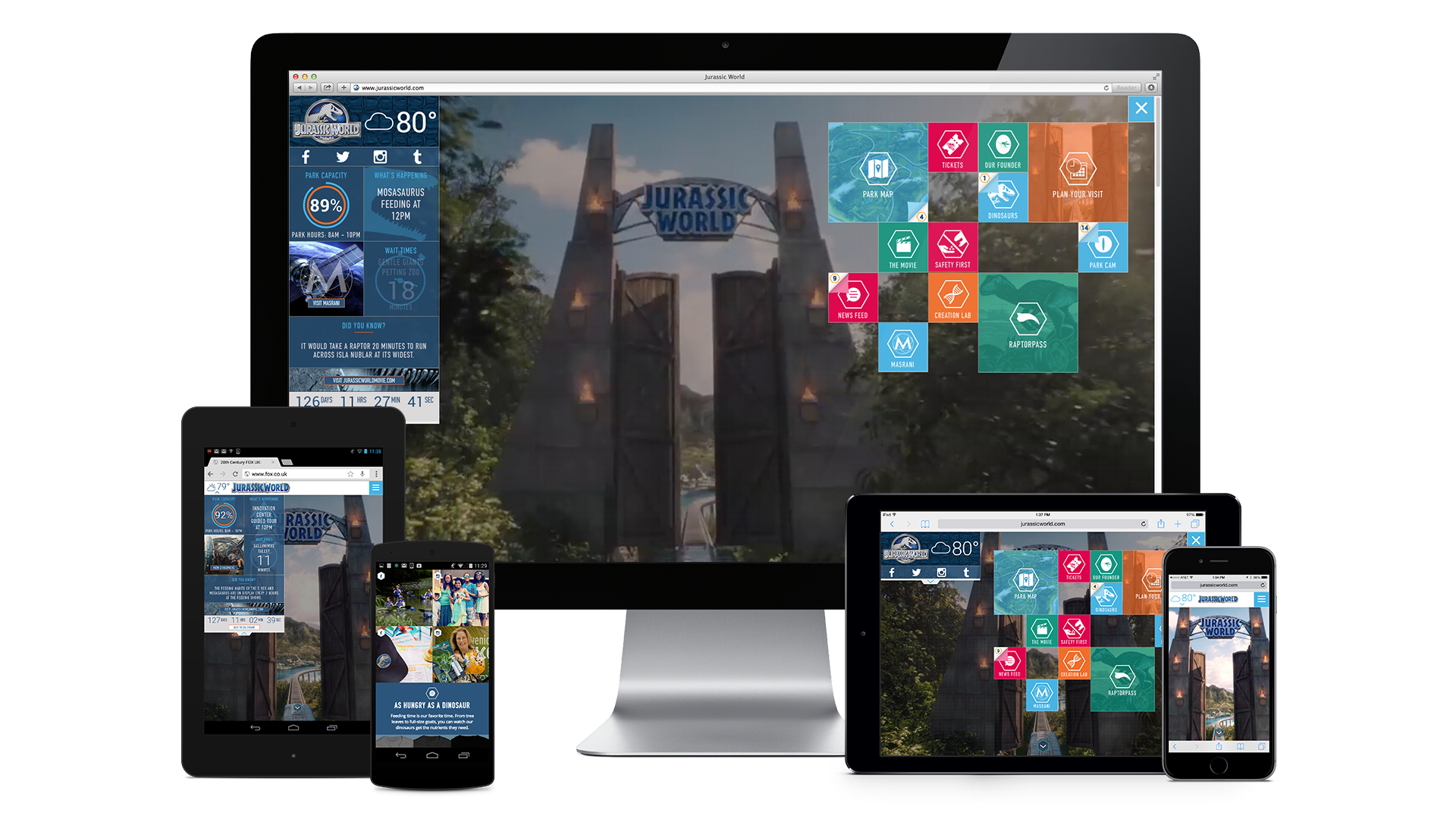 W3 AWARDS - 2015 GOLD AWARD WINNER
GENERAL WEBSITE CATEGORIES - MOVIE AND FILM
2015 CLIO KEY ART AWARDS - SILVER
2015 AMERICAN ADVERTISING AWARDS, LOS ANGELES - Bronze
DIGITAL ADVERTISING, CONSUMER WEBSITE
As one of creative leads from initial concept through execution across multiple phases, developed a digital campaign that helped propel Jurassic World from fan skepticism to one of the biggest films of all time. After nearly 2 years working on this campaign, the success of the the theatrical campaign allowed us to be the agency of choice for the next phase—the home entertainment campaign. Featuring all new content and activations for digital, social, and print.
JurassicWorld.com brings the theme park to life as an immersive, responsive in-world website, treating the island as if it's absolutely real. Fans new and old can experience the greatest theme park on Earth without risk of being eaten. Filled with thoughtful details, the site builds anticipation by showcasing everything the real Jurassic World would offer: hotels, attractions, time-reactive announcements, video feeds, and of course, dinosaurs. At the center of it all, an interactive map encourages users to explore Isla Nublar, location by location. Our site created a ton of buzz all across the globe. The site made it on the front page of
Reddit
. It was also featured in Web Designer magazine and the Visually and Verbally podcast, to name a few.
A popular YouTube channel even analyzed the site.
ILLUSTRATION FOR INTERACTIVE MAP
I illustrated the interactive map which has found its way into consumer products, fan art, and was even used and rescind for the Lego Jurassic World video game. 

DIGGING DEEPER
The site is designed to promote repeat visits with locked sections and ongoing updates, plus advanced ticketing. RaptorPass membership provides exclusive content notifications before they are made public.
The site has kept fans coming back, with visitors digging into the code to discover easter eggs, and every minor update generating a flurry of social media conversation and increased excitement for this summer's most anticipated blockbuster.

SOCIAL CAMPAIGN
I took the lead on Jurassic World's social media campaign. It was definitely a challenge creating and developing fun, interactive, and engaging content at a high theatrical level daily. It was also a lot of fun—because dinosaurs!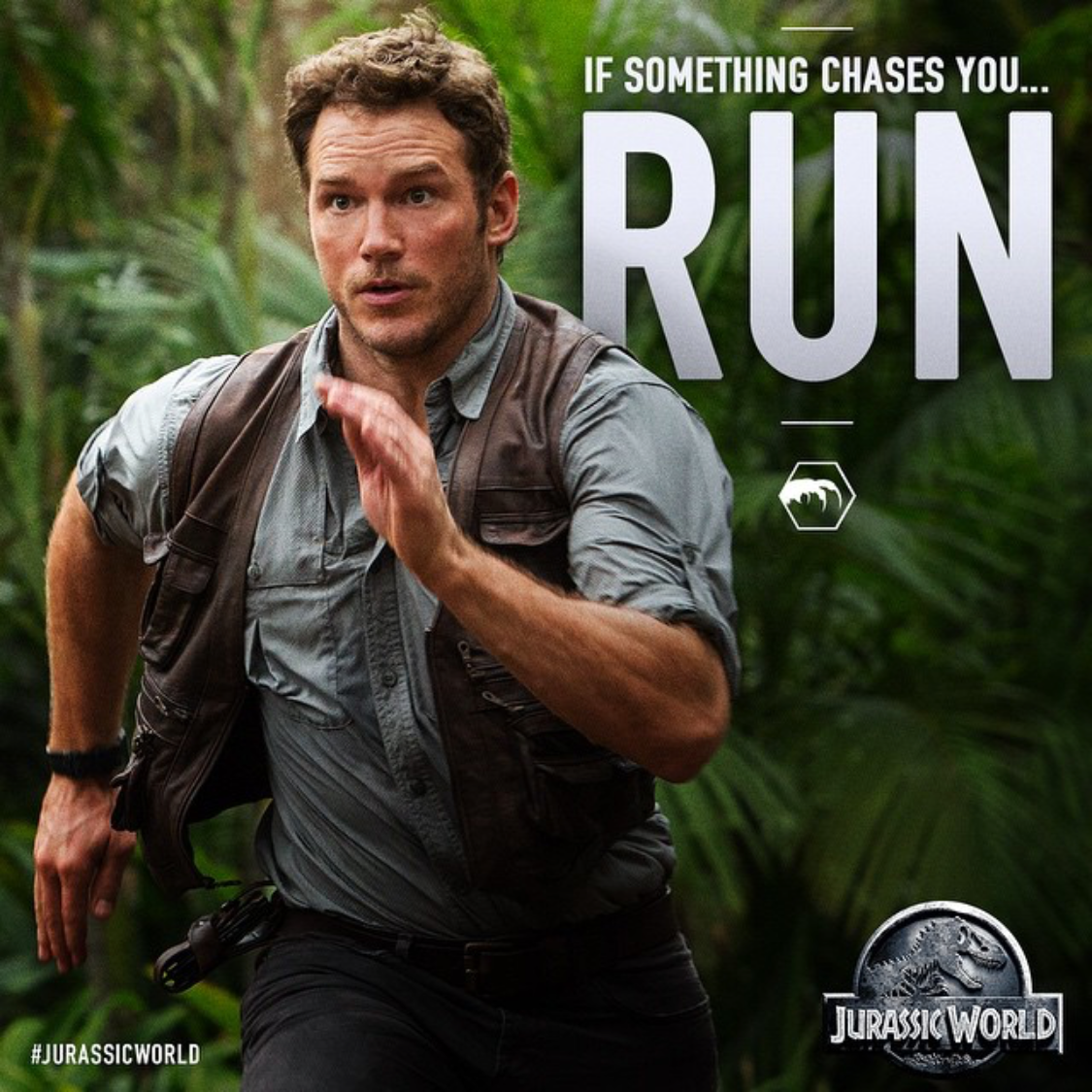 JURASSIC WORLD POSTER ART
2016 CLIO KEY ART AWARDS - SILVER - PACKAGING CAMPAIGN 
The "Ride the Gyrosphere" poster was originally created as a gift that accompanied with our Digital Campaign pitch to Universal as a way to win over the marketing team. They were such a smash success they asked for three more rides to be featured and then gave away all four posters an exclusive Blu-Ray offer. 
You might catch a glimpse of one or two of these posters in the sequel "Jurassic World: Fallen Kingdom".